Over a year ago I bought the CUTEST whale ring EVER from this adorable little shop on Etsy called Pica Pica Press.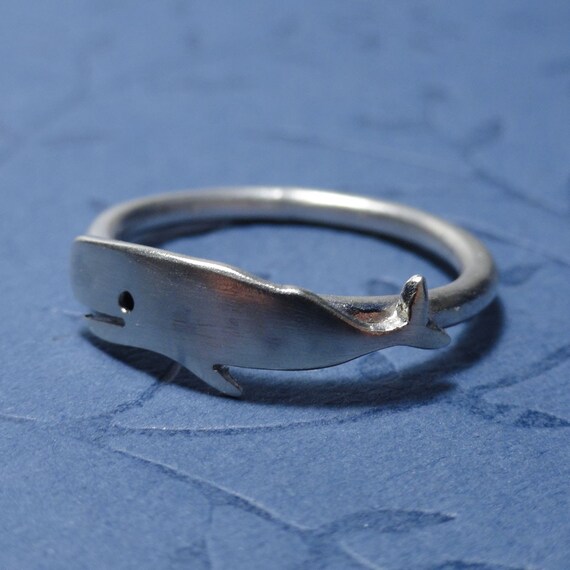 The girl (lady? woman? I'm terrible with ages/ the appropriate title for people) who ran it, Laura, made amazing jewelry with all sorts of neat designs. This was my all time favorite ring and I wore it all the time, even though I got that little flipper caught in my tights a lot and ruined many pairs.
Just recently, I lost it! I have no idea where I put it and can't find it anywhere. And Pica Pica Press is CLOSED so I can't get a new one! Devastating.
Which leads me to this week's Wednesday Whale Love: the search for the replacement whale ring!
First choice replacement by Fifth Heaven:
I like this one because it's not too big, is silver colored, and you can order it in half sizes (as I can wear a 7.5 ring on, like, 5 of my fingers).
Second choice replacement by Christine Domanic:
I like that it has Moby Dick in the name, aha. But I can't tell how thick the band is because it isn't shone on a finger and I really need that visual. Plus you can only get it in whole sizes and that might not work for me.
Third choice by I Adorn U:
I'm not sure if this is silver or brass, and also it's WAY EXPENSIVE! It does comes in half sizes (7.5), but that tail looks kind of pointy.
So, in conclusion, if you happen across any whale rings in your internet travels, please share them with me! Also, my birthday is coming up so if you wanted to just buy it for me, well, that would be cool too (again, size 7.5).
:)
Hope you're staying warm on this frosty Wednesday!